This week has been so uneventful. Boo! We are on break from our mommies group. The weather has been rainy so Hubs has taken the good car to work. So Jaxers and I have been stuck at home for the last two days. I'm so excited for gymnastics today so we can get out of the house!
Here's some iPhone pictures from the last week and a half. I'm obsessed with Nutella so we've been eating a lot of toast recently. Jax certainly doesn't complain!
Mojo is more like a human than a dog. She does so many things that are un-doglike. But this is a total dog thing... How does she breathe??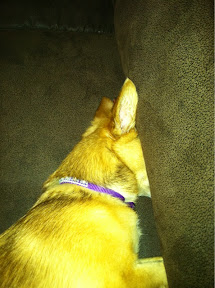 We've been spending more time outside (when it's not raining) because the weather has been in the mid 80's! This kid likes to get dirty!
Now that Daddy is home, Jax has resumed shaving with him each morning. Love.
Ryan's side of the family loves popcorn. Apparently it's genetic because Jax loves popcorn too. Every few minutes I would hear him randomly say "yummmmm popcornnnnn!". Pretty darn cute, if you ask me :)
Jax has reached another big milestone and I'll be posting about that in the next day or two, so come back soon!