This week has been very uneventful. We really didn't have much planned and it's so stinking hot, we pretty much hung out at home all week. Here's a couple pictures though :)
Extreme Home Makeover was building a home in our town, so we stopped by and watched them building for a little while. The episode is set to air in October!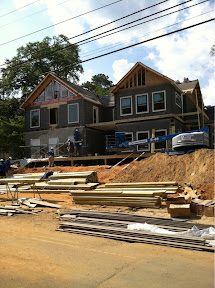 I tried to get creative and do some crafts to pass the time this week. I'm not AT ALL crafty but I have a fun book that I got ideas from. This turtle was a big hit!
Check out
this video
of Jax being his crazy 2-year-old self!
Have a good week!!