This week we've been working on getting our house ready to sell. We will be listing it in 2 weeks so we're trying to get a few last minute things cleaned and ready. We're having people
over to grill and swim tomorrow for the Fourth, so that should be fun! And then my best friends get here on Thursday and I can't wait!!
We've been playing outside a lot because the weather was a tiny bit cooler... In the low 90's instead of 100's. Ha!
Part of working on the house was the little DIY project I did. I'm a dingbat and forgot to take a before picture, but imagine it being the green being gray, and imagine the hook being rust colored. I repainted them, then put them up in our playroom. Now I just have to figure out what to hang on them. Any thoughts??
We had a work picnic for Ryan this week and Jax fell off a bench, face first, onto some concrete. This kid is constantly getting hurt!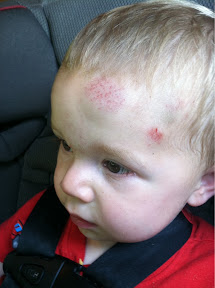 Jax naps on the couch in his playroom and yesterday he woke up earlier than normal. I was outside doing another DIY project, so Hubs grabbed him and put him our bed with him. This is what I saw when I came inside. So sweet!
In preparation for my friends coming out, I've been getting car seats and baby stuff out of storage. There will be a 2 year old and a 3 month old so we'll be busy, busy! It didn't surprise me that Jax saw this bouncer and instantly wanted to lay in it.
And finally, we were in the playroom the other day when Daddy got home. He was taking off his uniform and of course Jax wanted to wear his hat. Such a handsome little guy!
Have a wonderful holiday weekend, friends!!