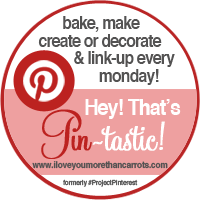 It's an attempt to get all us Pinterest-y people to actually do some of the things we have pinned. I honestly feel like I'm pretty good at looking through

my pins

and doing some of them. Yesterday I made

these Chocolate Peppermint Cookies

and they are
out-of-this-world yummy! I did a little recipe adjusting so mine are actually triple chocolate... because you really can't ever have too much!
First off, you must find these guys in the store... but ideally your husband will grab the "chips" version and not the whole, individually wrapped ones.
And this is where I went crazy. I added white chocolate chips and semi-sweet chocolate chips to the recipe. I wanted more chocolate and a little less mint (but don't worry, there's still plenty of mint flavor)
The dough is VERY stiff, so you'll need to roll the cookies into balls and the flatten them with your hand. Make them pretty flat because they won't expand much.
And VOILA... delicous pepperminty, chocolatey goodness.
I might have eaten three four within hours of making them.
1 1/2 sticks butter, softened
2/3 C sugar
2/3 C brown sugar
2 eggs
1 tsp vanilla
2 1/2 C flour
1/2 C cocoa powder
1 tsp baking soda
1/2 tsp salt
3/4 C Andes Peppermint Crunch Baking Chips
3/4 C semi-sweet chocolate chips
3/4 C white chocolate chips
Combine flour, cocoa powder, baking soda and salt in a medium bowl and set aside. In a mixer fitted with the paddle attachment, cream butter and sugars. Add eggs and vanilla and mix until well combined. Add dry ingredients and mix well. (My mixer was struggling by the end of this). Use a spoon or spatula to stir in chips. Use a cookie scoop or tablespoon to scoop cookies, then roll into balls. Put on a cookie sheet then flatten well with the palm of your hand.
Bake at 350 for 10 minutes.
Enjoy!