I am getting so excited for this summer! Jax is turning TWO (can you believe it?!) and I have fun things planned.
We went to our town's annual Dogwood Festival this past Saturday and while we were there I saw a booth for
The Little Gym
. They are just building one here and I can't wait to take Jax! Hubs and I both did gymnastics when we were young and I'm so excited to introduce Jax to the same thing.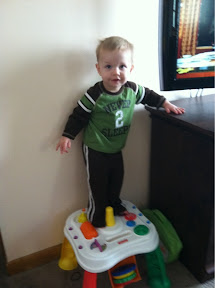 They are opening a few days after Jax's birthday so I signed him up for a free trial day. I really hope that he loves it because they have a summer session that is once a week for 10 weeks. It's pricey (boo) but totally worth it to me. It will give us something else to do this summer and I think it would be so fun!
Before this came up, I signed Jax up for gymnastics on Fort Bragg. It is only for one week but I thought that could be fun too. So now he'll have lots of fun gym time this summer!
In a few weeks there will be swimming lessons opening up so I plan on enrolling him in those too. I am just so excited that he is old enough to do all these fun activities with.
I'm not looking forward to the sticky heat that comes with summer, but what better way to cool off than playing in an *air-conditioned* gym and swimming in a pool?!
(Sorry that some of the pictures are blurry... Taking iPhone pictures of a busy toddler is hard!)