I apologize for the blog bareness over the last week... This will be another quickie blog with a few pictures from our Vegas trip this past week. I hadn't been back to Vegas since I moved from there almost 4 years ago. We had a blast while we were there! It was the first time I left Jax overnight so that was tough, but it was great to get a break and just be alone with my hubby.
We stayed at The Venetian and it was beautiful.
We took advantage of room service for breakfast, and their wonderful day spa with amazing massages.
It was a fun, relaxing trip. We aren't 'party-ers' so we enjoyed some nice dinners and a few shows.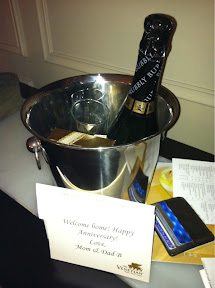 Tuesday we ate dinner at Prime at Bellagio. It was a delicious steakhouse sitting on the lake with the fountains. After that we went back to our hotel where we saw Phantom of the Opera... It was fantastic!
On Wednesday we ate dinner at Lavo, which was sooo good... yummy Italian food. After dinner we headed across the street to TI and saw the Cirque Du Soleil show Mystere.
The show was UH-mazing! Overall our trip was very relaxing and very enjoyable... I look forward to another trip in the future.